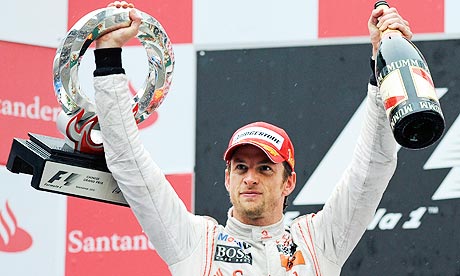 Yet again rain affected the Chinese Grand Prix and yet again the Red Bulls locked out the front row but this year it was a McLaren that crossed the line to take victory in what was a hectic Chinese Grand Prix.
I have to say I'm impressed by Button this year he has got a car that lets him prove his ability as a driver more so than last year and he has also shown us his brilliant skill of being able to judge the conditions as he made another inspired tyre choice.
He was pushed quite a bit towards the end by Hamilton but in the end it was Hamilton's tyres that hindered his push for the win. Mclaren's first one two since 2007 will definitely come as a relief particularly after their disappointing qualifying performance.
Fernando Alonso certainly has had a tough time in the last two races. He retired with a blown engine in Malaysia and another tough race in China. He jumped the start and had to take a penalty for that which meant he had a real fight on his hands to get a good points finish.
Start of the Chinese Grand Prix
Mercedes had a mixed race. It was another struggle for Michael Schumacher who had a tough end to the race with worn tyres resulting in him loosing a lot of positions and eventually struggling home in tenth place to scrape a point. Rosberg could well have won the race today and indeed led the race for a considerable amount of time but a mistake and tyre issues meant he slipped down to third but another podium for Mercedes I'm sure is very welcome. Watch out for them in Spain.
Speaking of which there is speculation that the Spanish Grand Prix may have to be postponed due to the ash from the volcano eruption in Iceland and indeed many of the teams personnel are trapped in China because of the airports being closed. It's not till the ninth of May so there are a few weeks left for the ash to disperse but there could be a situation where the teams may have to go straight to Barcelona and not go back to their bases. This could mean that the scheduled updates for the cars may have to wait till the Monaco Grand Prix.
There is one thing for sure. The 2010 season has definitely improved since Bahrain!! Lets hope it continues into Spain!!